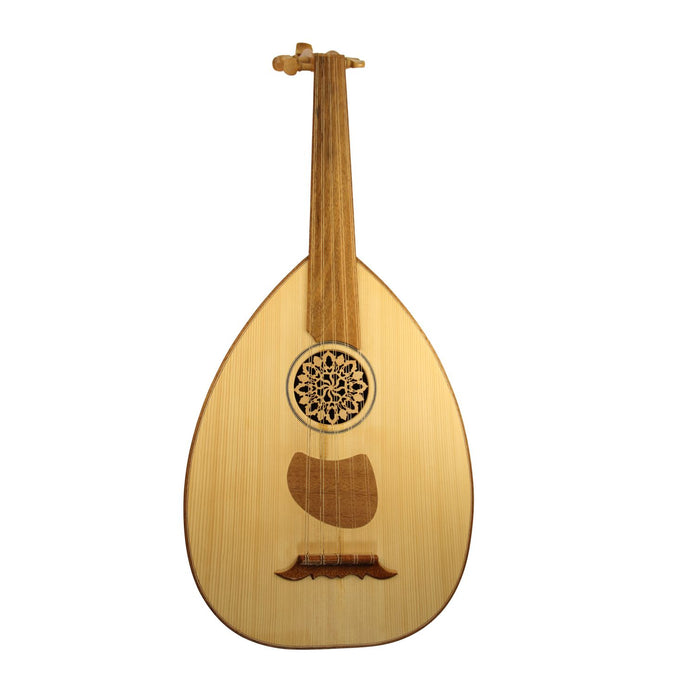 Barbat Instrument Mmade by Saeed
Original price
$920.00 CAD
-
Original price
$920.00 CAD
$920.00 CAD
-
$920.00 CAD
Current price
$920.00 CAD
Barbat or Oud is an Iranian-made stringed instrument popular in the middle east and north Africa . Because the instrument's surface is covered with wood, it is called Oud in Arabic (al-oud means wood in Arabic). According to some music researchers, such as Eckhard Neubauer, this word is originally from Arabic: the word "Rood" is Persian, which also means wire in stringed instruments.

The belly of this instrument is vast and pear-shaped, and its handle is very short. In such a way, most of the wires' length is placed along the abdomen. The upper surface of the belly is made of wood, on which the windows are made of mesh. The barbet is without "hands," and the jump from the vault is short and elongated. The barbet has ten strings or five pairs of lines; the masters break the mould and add two or one line in the lower part before the second string to the instrument, and these strings are tuned. Paired rows are adjusted, and each ten line has its phone. The phones are placed on both sides of the phone box (headset).

It is the bassiest instrument among Iranian stringed instruments. Its notation is in the cell key (actually, it is based on the F key, written one octave higher for ease of reading and playing), which is two octaves. "Octave" is lower than the written note. The bass string (low C) usually has the role of "vocal," and sometimes this string is not a pair. The harpsichord sounds like the sound of the fourth octave of the piano from right to left. The harpsichord should be played with the "F" key, which means the original sound of the harpsichord is one octave lower than what is common today.
It has 10 strings. 

It comes with a high-quality soft case.